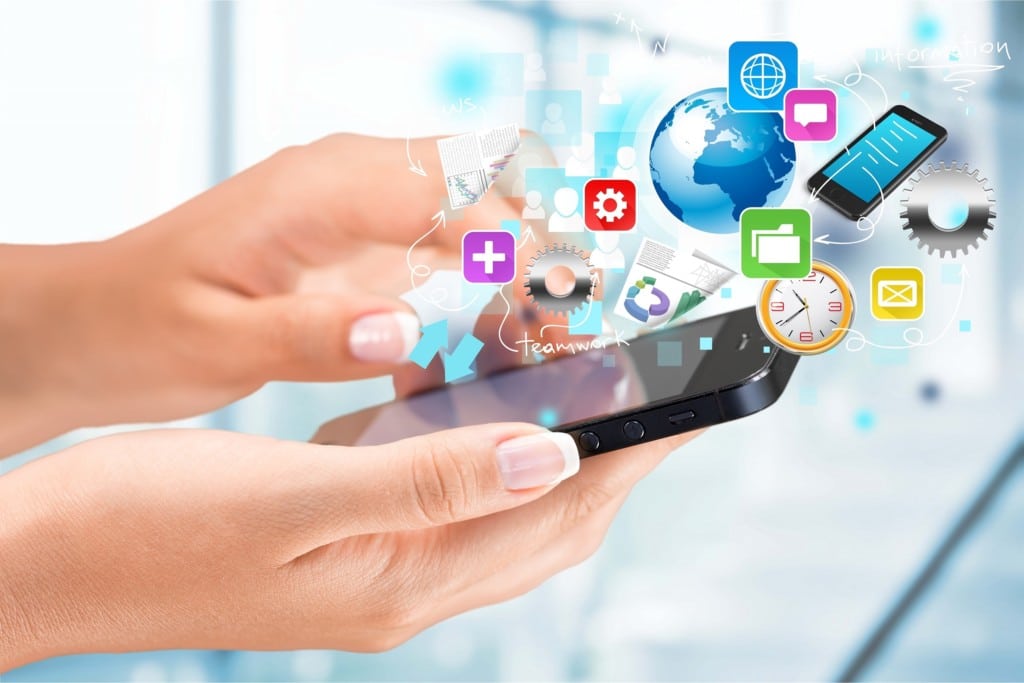 Needless to say, your brand new iPhone deserves nothing but the best. If you're in a fix as to which apps you want to install on your new iOS device first, you're at the right place. Here are some of our top suggestions for the apps we think are best to install on your new devices, leave your own review and let us know what you think!
Coinbase
Ideal for: Anyone who has anything to do with Cryptocurrencies
One of the most popular and effective cryptocurrency wallets, Coinbase supports what is probably the largest range of cryptocurrencies of any apps. The app allows for trading all the major cryptocurrencies —Bitcoin Cash, Litecoin, Ethereum Classic, and of course, Bitcoin and Ethereum, and has practical plans to involve other currencies in the near future. Armed with a simple interface, the app is easy to use for even the most inexperienced in matters of cryptocurrency. All the user needs to do is verify thweir identity (by uploading a personal document – such as passport), and they can access spending limits of $25,000 daily.
Price: FREE

Wally
Ideal for: Tracking personal expenses consistently
Tracking personal expenses is one of the most vital aspects of organizing one's life. However, with the amount of attention to detail and repetitions it can also be quite the boring and daunting task, which often takes people away from the very purpose of the task. Wally helps avoid this entire mess by allowing users to take a photo of their bills and receipts, which the app reads and logs automatically – thereby preventing the hassle of users having to log their expenses in manually. The app also fills in location-related information for users who can and/or choose to use geo-location on their phones. The app itself, while serving a lot of functions, has a clean and intuitive interface, making for an unmatched level of user experience. The best thing? All of this, at no price whatsoever – all of Wally's features and capabilities are absolutely free!
Price: FREE

FilmoraGo
Ideal for: Anyone looking  for an simple, no-nonsense and effective video editing app
One of the best video editing software in the app market, FilmoraGo picks up on the goodwill of the very competent and highly rated Filmora video editing software. Ideal for newbies and experienced folks alike, FilmoraGo allows users to create text and subtitles, add filters and overlays, add music to videos, and of course trim videos.
Price: FREE, with in-app purchases

Pocket Yoga
Ideal for: Anyone looking to start on yoga the DIY style
Like the name suggests, Pocket Yoga allows users to pay attention to their health – the DIY style by showcasing over 200 postures with direction on how they must be done. The postures also come with vital health advice. The animations are clear, short and deliver the message seamlessly, and all the user needs to do is follow them as they would a teacher. The app is also good for those who do attend classes but want to brush up on their knowledge.
Price: $3

TuneIn Radio
Ideal for: People listening to the radio on the go
Ideal for people listening to the good-ol'-radio on the go, TuneIn Radio has tons of ways for you to stream radio stations from all over the world. What's more, by spending another $7.99-a-month, you can avail the add-on premium service, which includes many professional sports like MLB, NFL, Barclay's Premier League, NBA, and Bundesliga. While the free version has a few adverts here-and-there, the Pro version has none; in fact, it has the ability to record radio shows and programs so that you can listen to them at your leisure.
Price: FREE

Waze
Ideal for: Busy drivers needing better traffic information for a commute.
Waze is one impressive app that provides real-time traffic updates and calculates your average commute time. A very handy app, Waze offers neighborhood location based reports and reminds you when you should be heading out for a meeting so you will be punctual in your arrival. VERY useful when you plan to get somewhere in a certain amount of time, but a traffic incident takes place that will put a big delay in your way.
Price: FREE

Storm Radar
Ideal for: The terrible weather. And storms (obviously)
Packed with several top-line features, like real-time weather alerts, advanced weather tracking, and severe weather alerts, Storm allows you to see current conditions at different intervals like a daily and/or hourly forecast view with just a single glance at your screen, among other things. Arguably one of the higher quality weather tracking applications for iOS.
Price: FREE

Google Photos
Ideal for: those having a large collection of unorganized photos
A fabulous app that helps you store, manage and edit your photos, Google Photos uploads photos directly from your personal Camera, and organizes it and makes it easily searchable. The app also offers an unlimited storage capacity along with the ability to connect to the internet using your iOS. Easily the best alternative to Apple's iCloud Photo Library, the app has a super handy visual search function just like google search on your desktop, which lets you to search for the places, people, and just about anything else in every photo – without tagging! While the fact that all uploaded photos will be scanned by Google's algorithm does irk some people, many are comfortable with the tradeoff for the utmost in technology. After all, it is free!
Price: FREE

Wunderlist: To-Do List & Tasks
Ideal for: Those in need of a clean and simple task manager.
A basic task manager, Wunderlist allows users to create, capture, share and finish many of their tasks with great ease. It is also a cross-platform service, allowing you to keep track of your tasks on all your devices – iOS, Mac, Windows, or Android, and taking them with you on the go. While the free account is generally capable for most users, a Pro subscription which can be added as a simple purchase inside the application is also available. It has added features including the ability to pass tasks to other individuals. Not to mention the large variety of backgrounds, which add an element of fun to task-management.
Price: FREE

Movies by Flixster, with Rotten Tomatoes
Ideal for: Those who want all-things-movies in one place.
Packed to the brim with features, Flixster is a simplistic app, which allows users to do many things on a single platform – from getting showtimes for their favorite theaters, ordering tickets via Fandango, connecting to social networks to share reviews and ratings, to even getting the Rotten Tomatoes scores (and that too, without having to leave the app). This simple and smart app is a must-have for any movie-buff.
Price: FREE

Venmo
Ideal for: Those who want a secure way to pay and receive money
Simple, fast and secure, Venmo is a peer-to-peer payment app. All you need to is create your account with your information, add your bank account or debit, and you're all set. Not only is sending and receiving money very easy, you can also send a note when sending the payments to ensure that both of you and know what the money is for. Do remember to cash out though, so that your money can get transferred overnight to your bank account, and you can use it the next day.
Price: FREE

Day One Journal
Ideal for: Recording personal experiences with video
A great digital replacement for your diary, Day One Journal allows users to capture their experiences just as they are happening. With a simple interface, easy-navigation, and smart features, the app is ideal for those who are looking for a way to put all of their journaling experiences neatly in one place. Armed with high-end features like a great interactive map, automatic geolocation data detection, tag-wise organization, the ability to view your recent activity at the time of the memory, the ability to have multiple diaries or journals for different journeys, and Day One Sync to sync your account across multiple devices, Day One 2 is most definitely the best app out there. And as if that was not enough, the app also packs-in a Day One IFTTT (If This Then That) channel, which allows you to capture everything through automation by linking-up your Instagram, Facebook, Twitter, and other social media feeds to Day One. Hands-down the best journaling app you can get on iOS.
Price: $4.99

Airmail – Your Mail With You
Ideal for: Anyone who wants to handle multiple email accounts efficiently
Originally a Mac email app, Airmail has found a path to iOS and how! The new version for iOS maintains the full amount of powerful features available in the desktop version but in a smaller and more compact package, and can be synced with your Mac Airmail account with iCould syncing at no extra effort. Features include having multiple email accounts from different email services, folder and label support, a single inbox where you can use color coding to stay organized for every account, PDF creation, thread viewing, HTML signatures, and aliases, among others. Managing multiple emails has never been this easy.
Price: $4.99

Fantastical 2 – Calendar and Reminders
Ideal for: Anyone who wants a gorgeous-looking and highly-functional calendar app with natural language input
Already helmed as the king of calendar apps, Fantastical's new overhauled version for iOS 8 includes its old features and also brings with it some new tricks. The app still looks fab, and has its high-end features like the natural language input and innovative split-view, among others. Added are some cool new features like (but not limited to) a new light theme, a map on events with an address, Google Chrome support for URLs, and the ability to open locations in Google Maps. Beautiful, intuitive and packed-with-features, you have to try it to believe it.
Price: $4.99

ProCamera
Ideal for: Taking photos in low-light.
Simple, powerful and easy-to-navigate, ProCamera+ is indeed one of the best third-party camera apps in the market. Not only does it shoot fantastic videos, it also allows photographers to have more control over their images – especially on those shot in low-light. You won't even mind spending a little extra to unlock some features that are available exclusively in the in-app purchase.
Price: $4.99