Google Trips
Ideal for: Looking for a good app on a familiar platform
Set to supersede every other travel app soon (and that includes TripIt), Google Trips is one among the newest series of additions in the Google Apps Suite. The travel app is brimming with features, from maps and guides, to customized hours and lists of restaurants and places of interest. The app gathers all of its required information from the user's Gmail account and stores it offline so that they can access their information even in places that have low reception or no internet. The app also have destination-based guides and features to suggest activities and find reservations.
Price: FREE

Roadtrippers
Ideal for: Anyone going on a long-term road trip
An ideal app for those looking to organize road trips, Roadtrippers both plans driving routes and allows users to book hotels at the same time. What really makes this app stand apart is the fact that the app find interesting yet less-traveled paths that users can explore, allowing users to find eclectic restaurants and quirky spots that they can easily bookmark and use as part of their plan.
Price: FREE, with in-app purchases

Packing Pro
Ideal for: Planning and organizing for trips
As enjoyable as vacations are, packing can be a real hassle. There is always a lot to plan, and something always seems to go amiss. With Packing Pro, users can say goodbye to this problem. All the user needs to do is enter in basic information such as the trip duration, destination, weather conditions, and if applicable, any additional notes such as possible activities and access to things like a washing machine (or lack thereof). The app takes in all of this information and them makes a checklist of all items required and categorizes them into lists that can easily by saved and amended. The app also has a reminder which helps users remember important factors of the most abstract factors such as passport renewals.
Price: $2.99

Kayak
Ideal for: Booking flights and hotels at the best possible rates
The highly-rated and very popular travel website now has its own app! And not surprisingly has risen to become one of the most popular apps on app stores everywhere. The app carries forward all the great features from its website – from booking flights and hotels to comparison of best rates and features and customer service to assist with any hiccups and/or change in plans.
Price: FREE

Airbnb
Ideal for: Searching and renting properties outside of the hotel network
A name that needs no explanation, Airbnb has its own app that extends it features and makes it more accessible to its far-and-wide user base. Ideal for those who want to experience their travel destination at a more authentic and affordable level – and not stay in a resort or hotel, Airbnb lists homes, apartments and rooms that are rented out by homeowners. All the user needs to do is enter the location they are planning to visit, opt for the check-in and check-out date, and add-in the number of guests. Not only will Airbnb suggest suitable rooms and homes to rent, it will do so in a way that is tailored to the user's requirements.
Price: FREE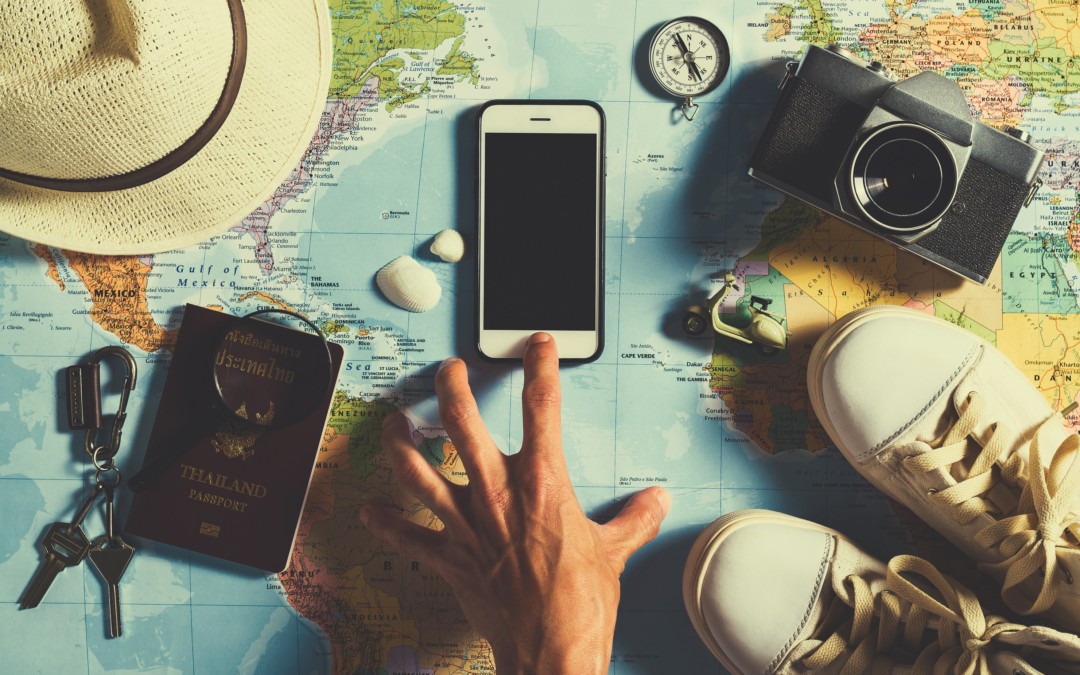 While summer vacations are definitely fun, organizing them is indeed a lot of hard work. After all, there are so many things to do – from booking your flights and hotels and packing your bags, to getting to the gate on time and planning your itinerary. Luckily for you, there are now apps that can make all of this much easier. Believe it or not, you can use your mobile phone to book your travel and do much more – as easily as you would from a desktop computer. With these 9 awesome travel apps, planning and going on your adventure just became more fun!
TripIt
A fantastic app to plan your travel, TripIt is very much similar to having a personal travel assistant on your tablet or phone. All you need to is forward your confirmation e-mails to TripIt, and the app will automatically add them to your itinerary. Additionally, TripIt will also alert you where and when you need to be once you have plotted out your travel plans.
For: Android, BlackBerry, iOS, Windows Phone
Price: FREE

GateGuru
Forget all of your airport troubles with GateGuru. With a simplistic dashboard and smart features, this app lets provides you with at-a-glance information about departure times, flight delays, and airport layouts, among others.
For: Android, iOS, Windows Phone
Price: FREE

TripAdvisor
A great app for the globe-trotter, TripAdvisor features reviews by real-life travelers, and provides you with all information you need on any and all aspects of your travel, from motel and hotels, B&B, to destinations and activities. What's more, every destination has reviews with an overall rating and travelers' photos.
For: Android, iOS, Windows Phone
Price: FREE

Hotel Tonight
A comprehensive database of reviews of places to stay, Hotel Tonight has reviews that are short and concise, yet informational and insightful. Additionally, the app gives you access to last-minute discounts from hotels that are looking to fill-up vacancies.
For: Android, iOS
Price: FREE

Triptease
An app with a magazine-like interface consisting of destinations that you can easily browse-through by location or rating, Triptease can help you choose your next vacation destination. Not only does the app have a range of reviews for each venue's page, it also allows you to subscribe to updates from any reviewer you may have taken a shine to.
For: iOS
Price: FREE

Field Trip
The ideal app to keep when you're out on vacation, Google's Field Trip suggests interesting events or places nearby as summary cards and pop-up notifications. Truly the ideal app when you're exploring a new place (and especially) when you are in a fix on what to do next.
For: Android, iOS
Price: FREE

Trip Journal
A journey-recording app, Trip Journal can help you record your trip no matter where you go on the planet. The app has many handy features that you can use, from marking-off places you've visited and using interactive maps where you can upload your notes and photos, to sharing your vacation experiences with family and friends in real-time. Truly ideal for anyone looking to real-time record their experiences.
For: Android, iOS
Price: $2.99

iTranslate
Worried what you would do when you abroad at a place where no one speaks your language? Fret not, because there's an app to help you with that. Armed with a simplistic interface, iTranslate helps you understand the local lingo of your vacation destination. Not only does the app turn text to speech (and vice versa), it also detects languages automatically on the basis of your input.
For: iOS
Price: FREE

WeatherPro
Much as we often don't want to, we have to admit that the weather has a big role to play in how out vacations turn out, and WeatherPro is just the right app that you can use to know about the (little) weather. One of the best forecasting apps in the market, WeatherPro covers over two million locations worldwide, including radar and satellite information, and the next few days' forecast.
For: Android, BlackBerry, iOS, Windows Phone
Price: $2.99 to $3.99