Weather Timeline
Ideal for: Those who want the essence of The Weather Channel forecasts on their phones
Missing The Weather Channel on mobile platforms? Fret not. This ad-supported, free weather app that mirrors its parent channel offers data and the familiar classic feel. Data displayed includes visibility, wind, and temperature on hourly and daily bases, along with interactive maps which display the most uptodate Doppler radar data, and therefore showcase accurate and relevant weather alerts – both general and severe. Additionally, users can use social sharing features to upload and share images and other media across social platforms.
Price: Free

RadarScope
Ideal for: Anyone who love data – and requires to have all kinds of data available at hand
Ideal for data geeks who prefer to have every single piece of information that they can possibly have on an event, RadarScope is an ideal app. Armed with a rather suprising amount of high-res data, the app displays the most up-to-date forecasts and does a marvelous job of keeping track of severe weather warnings and possible occurences. Self-descrived as the best "for weather enthusiasts and meteorologists," the app comes with a price tag to boot. But those who have made the leap have not been disappointed. The app's effectivess is rooted in the fact that its radar data is sourced from Terminal Doppler Weather Radar (TDWR) and "next-generation radar" (NEXRAD) – both creations of the U.S. National Oceanic and Atmospheric Administration. In layman terms, that's the source professional weather forecasters use.
Price: $10

Flowx
Ideal for: Those who prefer to have a weather app that is accurate as well as pleasing aesthetically
Viewing data at a stretch can get really boring – even if its vital and useful. Flowx helps users get into the flow (pun unintended) of viewing data as a dynamic entity by transforming them into mesmerizing, aesthetically suiting, yet highly functional visualizations. Vital information like humidity, precipitation and temperature levels are displayed in a number of ways in the app – users can pick the visualization they prefer. The app also sports a highly-detailed radar map that allows users to jump backwards as well as forwards in time.
Price: FREE (Android only)

Carrot Weather
Ideal for: Those who want an accurate yet casual way to look at weather forecasts
For anyone looking for an app that does the basics best – look no further. Carrot Weather is an app that takes the phrase, "basic, functional and straightforward" to a whole new level. There is graphic on the top to give users an "at a glance" view for short-term forecasts, along with meteorological data that the user by the hour, day and week. Other data, such as temperature, humidity and wind speed also have their own slots.
That's not to say that the app fails to keep its users coming back to use it – for instance, it uses perky film references and quips alongside its data to keep users entertained and interested, without going over the top.
Price: FREE (Android); $5 (iOS)

Weather Underground
Ideal for: Those who need/have to adjust their activities according to weather conditions
Armed with a simple, buoyant and intuitive interface and well-put and smart features, Weather Underground gives its users the ability to access weather forecasts on the go. Brimming with features, the app displays vital and practically useful data such as sunrise and sunset times, ski resort reports, weather forecasts, and severe weather alerts. Additionally, the app has its own "smart forecast" feature, which is very useful for those pursuing outdoor activities such as hiking, biking or running. All the user needs to do is describe characteristics of the weather most suited to their outdoor activity, and the app will suggest when that weather will be most eminent.
Price: FREE

Dark Sky
Ideal for: Those looking for accurate, no-nonsense short-term local weather forecasts
An app that has created its own niche in making accurate local weather predictions, Dark Sky makes smart and clever use of algorithms and data readings to offer short-term local forecasts. The app is intuitive, yet packed with a lot of data, from daily and weekly forecasts, wind levels, and temperature levels to radar views. The app also has a time machine feature that allows users to take a look at weather conditions – this applies to past as well as future dates. What really makes it stand out, however, is its sheer accuracy when it comes to predicting and tracking oncoming storms.
All said and done, Dark Sky also offers long-term forecasts that cover a much wider area and are just as accurate as their short-term counterparts.
Price: $3/year (Android); $4/year (iOS)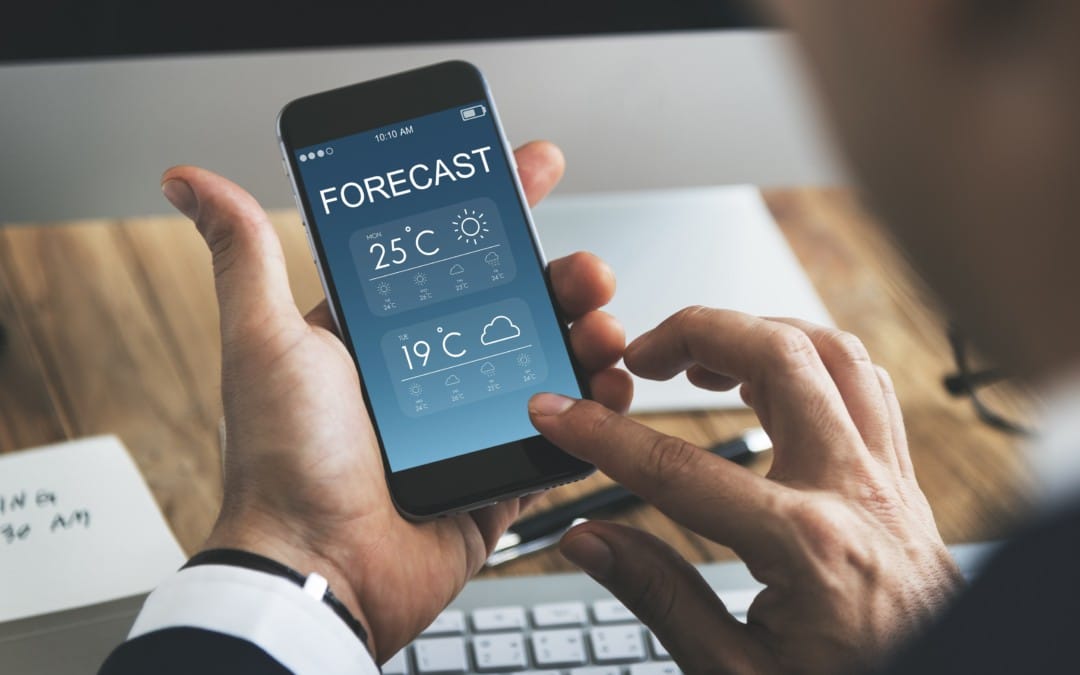 Much as we believe in it, simply walking outside and looking at the sky to determine what the day will be like is not the correct way to actually forecast the weather. Thanks to your Android smartphones with its internet connection, GPS capabilities and top-of-the-line Android apps though, checking out the weather just became all-the-more easier. Here are some of the best weather apps that will help you stay tuned to the weather so that you are always up-to-date with the weather.
1Weather
A simple app that has a slick and clean design, 1Weather is a great Android app which makes the process of getting information an easy and quick one. Elegantly designed and simple-to-navigate, 1Weather can provide you weather forecast information of two places simultaneously – of your current location as well as any other location of your choosing. The app also alerts you in case severe weather is on the horizon (literally).
What really makes this app special, though, is its separately downloadable widget app, which you can use to add weather widgets to your Android device's Home screen.
Price: FREE

AccuWeather
A great app for anyone looking for concise, yet detailed information on the weather, AccuWeather offers great features, such as severe weather notifications, 15-day forecasts, a new weather update every fifteen minutes, and the minutest information like wind speeds, dew points, humidity and UV Indexes. The app also provides local forecasts for upto 5 days that is packed with all relevant and important information.
Just like the iWeather, AccuWeather offers widgets that you can easily add to your Android Device's Home Screen.
Price: FREE

Yahoo Weather
Beautiful, elegant and rich in photos, Yahoo Weather gives you all possible information you would want to know about the weather. Not only can you see the condition of the weather locally (such as humidity, precipitation, and temperature) in real time, you can also plan your week with the help of the extended five and ten-day forecasts. Additionally, it features maps with interactive features which show satellite and satellite and radar data, along with info on things like snow and heat.
Price: FREE

The Weather Channel
Yes, it is the namesake of the very famous channel, and is in fact just as great! If you want your weather data delivered to you in a neat package, The Weather Channel is just the app for you. Apart from information on meteorology, the app features both hourly as well as ten-day forecasts, information pertaining to weather from all over the world, and weather maps along with forecast videos and discussions on pertinent issues like tropical storms, hurricanes and climate change.
Price: FREE

InstaWeather
A truly novel app, InstaWeather combines Instagram photos with location-and-weather data to provide you with an all-new way to share. Not only can you use InstaWeather for sharing photos of whatever it is that you're doing in real-time, you can also add the time, place, temperature, and location to the photos in a stylish and clean overlay. InstaWeather has over seventy skins that you can use on your photos and share them on other social media platforms.
Price: FREE

WeatherBug
A fantastic app for the weather-geek, WeatherBug packs in a ton of features that you can find very useful. Not only does the app offer accurate forecasts according to your exact location in real time (literally), it also gives critical weather alerts and updates (like lightning and thunderstorms) as Push notifications. It also allows access to extended forecasts and live weather cams.
Price: FREE

Arcus Weather
A rare app that can actually provide you weather forecasts for the next few minutes (let alone days and hours), Arcus brings you much more than weather data. Arcus Weather presents data on forecast and weather in a comprehensive-yet-minimalist design, which makes reading things easier. It also lets you create widgets on your device's home screen and add custom information on it.
Price: FREE

RadarScope
If you are a true weather geek and are willing to pay extra for better services, RadarScope is just the app for you. While the app is a little pricey, it packs in some top-of-the-line features that sets it far apart from its competitors. Armed with NEXRAD Level 3 Radar Data and maps that update automatically every 10 minutes, RadarScope arguably has the most reliable and accurate weather and location data for Android users. Filled with radar data and maps fit for both professional and amateur meteorologists, as well as weather enthusiasts, RadarScope gives  severe weather warnings (as soon as it is issued by the National Weather Service) and in-depth data about maps – just as you're looking at them.
Price: $9.99

Palmary Weather
Now available in the Android Market thanks to developers, Palmary Weather gives out very accurate forecasts and contains a comprehensive database of over eighty-thousand locations all over the world that pinpoints your position according to how you travel. The app has a large variety of charts, along with highly-flexible widgets that you can add to your home screen and the ability to display the temperature on your device's status bar. In order to avail all of these features, though, you will have to subscribe to the Palmary Weather Premium service, which costs $1.98. In case you're unsure, we suggest that you give the free version a test drive first.
Price: FREE